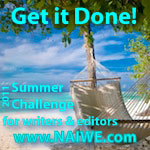 It's halfway through summer, and I've just decided what I want to do for the challenge. Remember, it's a way to "get more done than you thought possible," so I felt free to post a formidable list of books, rather than just the required three.
The three parts of the challenge are:
Read three books that will stretch your mind and inspire your creative spirit.
Finish one project that's been nagging at you for longer than you care to admit.
Brainstorm a new project that will bring you an additional stream of income, then take the first step to make it happen.
Read more about the challenge at the NewsWire blog.
I posted my reading list and projects at Do What Matters, Make it Pay, my blog for writers and creative entrepreneurs. It's a fairly new blog created in response to increasing requests for practical, down-to-earth information on how to create multiple streams of income while keeping the life you love, so you may want to subscribe to it.
So . . . click here to read my response to the NAIWE Summer Challenge. The first book I'm reading is The Creative Entrepreneur: A DIY Visual Guidebook for Making Business Ideas Real by Lisa Sonora Beam.
I chose it because I've spent several years reading serious, heavy business books, and was looking for something a bit different. So far, Sonora Beam's advice is spot on, and I'm enjoying the colorful, creative format. I think it will be a book I can recommend to other creative entrepreneurs. It certainly makes me want to pull out my art supplies and creatively refocus!
Where do you plan to start?