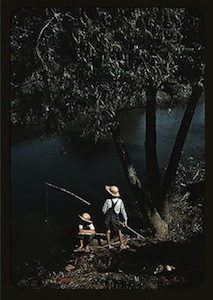 If you're bored, craving attention, or just want to stir up a little trouble, try releasing a new edition of a classic. Preferably, make it something well-known and beloved, like Mark Twain's Huckleberry Finn.
I'm sure that Twain scholar Alan Gribben expected a bit of controversy when he edited a new edition of Huck Finn that replaces the "n-word" with "slave," and "Injun" with "Indian," but even he may have been surprised by the outpouring of outrage.
I was first alerted to the controversy by shrieks of "censorship!" on Twitter. It was refreshing to see "#huckfinn" as a trending topic, possibly displacing a teeny-pop star or imploding politician. However, I had to mildly quibble with the use of the word "censorship" (see "Deciding How Peeved to Be Over New Huck Finn Edition").
I've been following the discussion from various sources. One of the best articles I've read is by Miami Herald columnist Leonard Pitts, who provides several compelling reasons why it's wrong to alter art in "Don't Censor Mark Twain's N-Word." The article was accompanied in our local paper by an outstanding editorial cartoon by Pat Oliphant, one of my favorite graphic commentators.
Other good articles have been showing up, including a few from NAIWE writers. You might also enjoy these additional posts and editorial cartoons:
Literature professor Scott Andrews addresses the issue in two thoughtful posts, Goodbye, cruel word and The Other N-Word.
"Tom the Dancing Bug: Adventures of Huckleberry Finn (Corrected to reflect modern sensibilities)" offers an amusing look at what a truly sensitive version of Huck would sound like. Oddly (or perhaps not so), it sounds like a publication of the NEA.
In "Twain Redone," Brenda Seward talks about her reactions to Twain's writing when she read it in elementary school (can you imagine elementary school students being expected to read either Finn or Sawyer now?), and shares her viewpoint on the change.
Linda Anger, NAIWE member and owner of The Write Concept, Inc., offers another perspective in "Altering the Classics."
From NJ.com, an article discussing whether Twain might have expected controversy over his use of certain word, accompanied by three amusing editorial cartoons.
Mike Luckovich's cartoon on Mark Twain
If you've read an interesting article on the subject, or posted something, please feel free to post a comment below and share it. Altering the classics is nothing new, but it's something that can easily get out of hand. People with good intentions bear watching!
"Half of the results of a good intentions are evil; half the results of an evil intention are good."
Mark Twain
"The evil that is in the world almost always comes of ignorance, and good intentions may do as much harm as malevolence if they lack understanding."
Albert Camus